News from Ghana
With your support we have purchased a "MOTOR KING" for Diana, our "BAMBOO QUEEN". Diana is very happy with this means of transport. She can more easily distribute bamboo cuttings and cut bamboo. We also expect that the Motor King will be very useful when bamboo charcoal is produced in Tamale.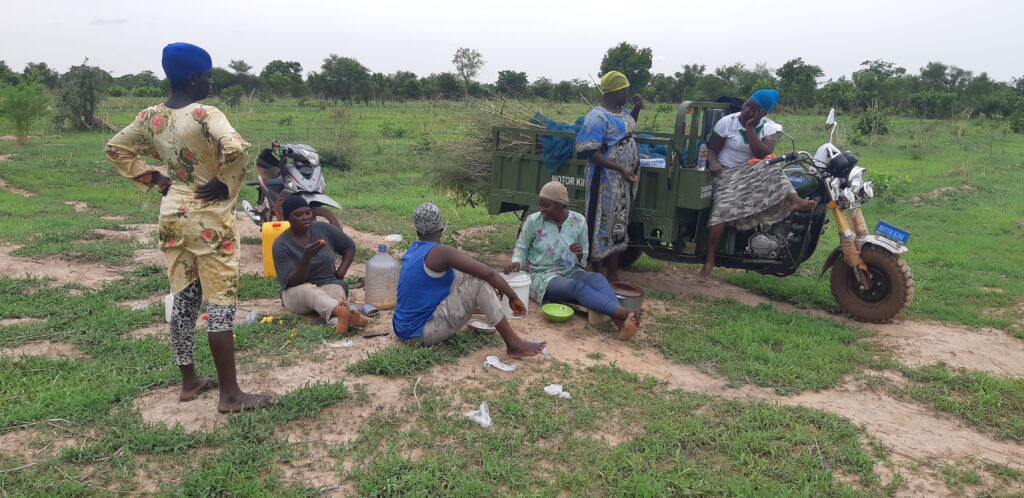 A break for the BWT, the Barbarugo Woman Team
Preparations have started at the Tamde Dam. There we want to work together with local farmers and women's groups. We will deliver plant material and regularly visit and train the farmers' and women's groups. The Tamde dam is located in Northern Ghana near Bolgatanga between Garu and Bawku, 250 km from Tamale.
Together we achieve more
We are a proud member of the association
Partin
.
Under the Partin motto "Together we achieve more" contact has been made with another Partin member
Foundation ELPG
who, like us, is also active in Northern Ghana, in WaleWale.
They focus on ecological agriculture. We have given ELPG bamboo cuttings to share with the farmers and use them as shade plants and wind breakers. Now our power woman Diana from Tamale has been invited to participate in a composting training. The idea is that when Diana has gained the knowledge, she can then share this with the farmers around the Tamde Dam, where we will start a planting project this rainy season. When she comes back we will share more information.
We also work together with the office of the International Bamboo and Rattan Organization (INBAR) in Ghana. INBAR mainly provides practical support and is the expertise center for bamboo questions.
We use many
INBAR brochures
to inform local stakeholders..
Training and awareness
Youth has the future! Through schools, we try to make children aware of the importance of nature. Care and attention to everything that grows and lives can be taught well through education. In June 2019, a bamboo plant was put in the ground under the interest of the children. That small plant is now, after 4 years, a 10-metre tree! Such actions by Barbarugo Ghana have now also attracted the interest of the local government. The ministry official was keen to take some cuttings for another school to plant bamboo there too.
The ladies of the Women's team are also getting the hang of it. They have been taught in theory and in practice how to plant the bamboo and at what distance. By explaining clump management, the thinning out of the bamboo poles, they now understand why: this way you get better bamboo and a higher yield. Through such courses, the ladies are better motivated and can work independently.
Carbonizer 2
In the previous newsletter we informed you about the purchase of a carbonizer to carry out tests with bamboo. We're going to make bamboo charcoal and biochar. This device of almost 1,000 kg has now arrived at its destination in Northern Ghana.
This is how the carbonizer will look after installation. The factory
😉
where the carbonizer is placed is under construction. Alex Kiipo the President of our Ghanaian partner organization inspects the construction
Financing with voluntary CO₂ rights
Our Board member Wilko Brink will pay this year a second visit to Ghana in July this year. This time he will be accompanied by one of our volunteers, Carel Wreessman. Carel gets a better feel for the work he does for us and at the same time he can provide a few extra eyes and ears in the talks we are having with the Ghanaian government to obtain 25,000 hectares for our Barbarugo Bamboo Agroforestry plan for which we are seeking external financing. For example, we are already holding video conference calls with the Volta River Authority, BUI Power Authority and the Ghanaian Carbon Market Officer
.
The Volta River Authority controls vast amounts of land along the shores of Lake Volta. The Volta River Authority is interested in our project because, among other things, bank erosion is a major problem. Lake Volta is the largest man-made lake in the world and it was formed behind the Akosombo dam which was built to generate electricity for the region (Ghana, Togo and Benin).
As said, we focus on 25.000 hectare!!!
We are pleased that the Financial Markets Authority (AFM) wants to regulate trading in voluntary CO₂ rights. This gives us the framework which will guide our project preparation in Ghana and our discussions with an investor.
Click the
link
to view our annual report (in Dutch)
..
and last-but-not-least......
Like other times, we ask for your support this time too. Together we achieve more.
Bank account NL05RABO 0174 9693 41 in the name of Stichting Barbarugo.

Thank you.